How To Create Checklists - Our Tips To Make Great Checklists
---
Do you want to increase the productivity and efficiency of your business organization? If so, then checklists can help make your operations much more effective. Not only can checklists help you consolidate your workload, but you will be able to manage it better too.
Making a checklist may seem like a simple task. However, in a business environment checklists are often much more complex and detailed than a simple list of things to buy at the grocery store. There are a lot of factors to consider in order to make a really great checklist that has a beneficial impact on your business.
We have compiled some tips that will help you with this. Here is what we will cover in this article:
Break Up Big Projects
Complicated projects usually require more management and planning in comparison to simple projects. For this reason, you need to use checklists on the more complicated projects by writing down each task that needs to be done. You will create a checklist by writing down every little step that must be taken to complete the project. Each step is focused on one at a time.
For instance, the car manufacturing process is very complicated. There are several different tasks that go into creating a car. Each task must be performed with precise attention to detail in order to do it right. A checklist can ensure this is done because it allows you to see all the actionable steps needed to complete the tasks.
Any good manager will create a checklist for each department of their organization. However, it is difficult for some complex projects to be broken down into tinier tasks because it requires you to understand all the details of the projects. The best thing you can do to overcome this obstacle is to observe the workers of each department and write down each step that is needed to do their jobs effectively. Once you understand the details and processes of their work, then it becomes easier to create an accurate checklist.
Putting smaller tasks on checklists is important, but you must maintain some balance too. If you make your checklists too long by writing down lots of details about each task, then you'll never get all the tasks done. Try to keep your tasks actionable by mentioning only the most critical details about them.
Keep Things Simple
You must manage the details on the checklists very carefully. Leave the critical details of each task in place, while omitting the fluff. Keep your checklist simple, to the point, and efficient. Remember that checklists should only outline the steps that are needed to get something done. You don't have to write a book and get into specific details about everything. Think of describing "the big picture" of the tasks.
If you have a complicated process that requires more detail than can be provided in a short sentence, you probably need to use Checklist Software like CheckFlow. CheckFlow allows you to add content (text, images, files etc) and even capture input (using controls, such as text boxes, date pickers etc) for each task. This is how you turn a normal checklist in to a seriously powerful process document.
Here is a screenshot of our Employee Onboarding Checklist.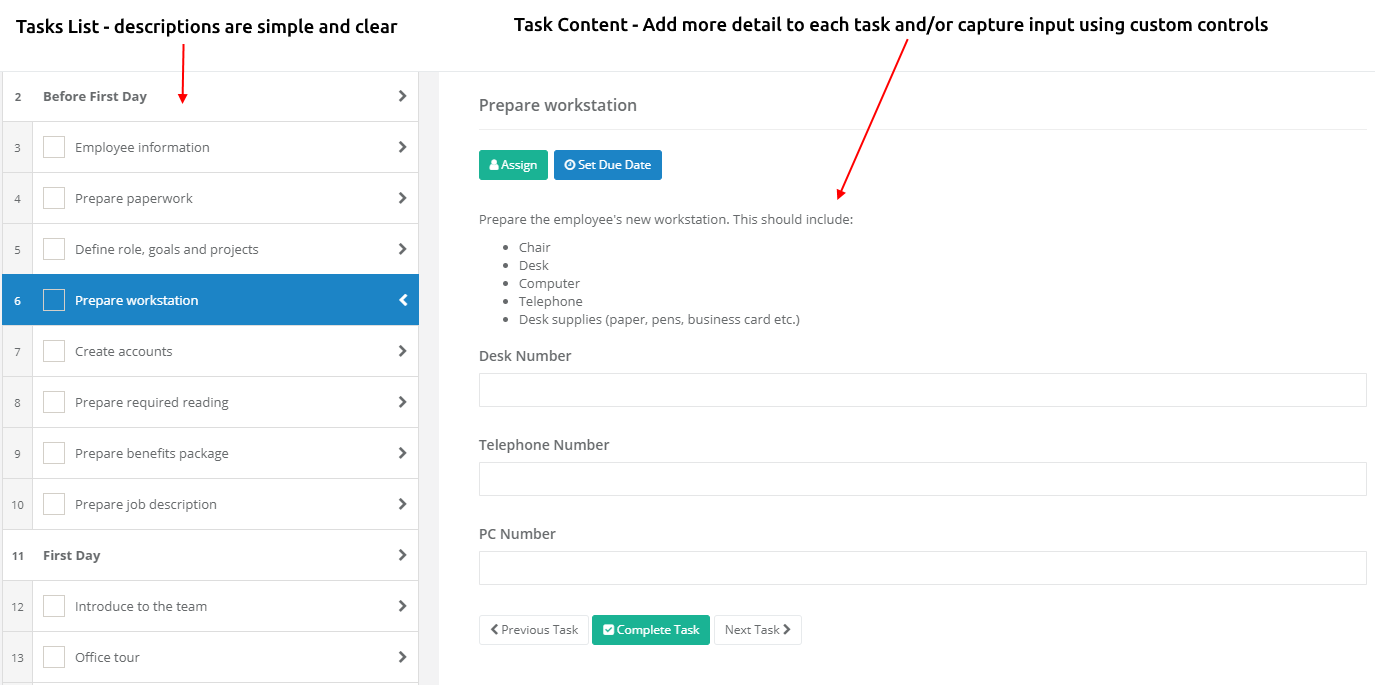 Of course, you should not be too brief with your task descriptions either. For instance, if you have a task that reads "new client" that doesn't tell you what action you need to take. A more actionable description would be something like "collection client information" or "write and send a follow-up email to the client."
Balance is the key here. Keep your checklists specific, simple, and precise. Make sure it includes all the important steps to achieve the overall objective and use checklist software if your checklist requires more detail.
Task Grouping
You'll end up with a lot of smaller tasks outlined by the time you finish writing your checklists. Just looking at all of these tasks might make you feel overwhelmed or stressed out. That is why it is better to group together any tasks that are similar to each other. Then you can focus on each individual group of tasks rather than one individual task itself. This will make you much more productive in your work as a manager.
Since the tasks inside each group are similar, you can react to them at the same time. Once you get the group of tasks completed, you would have accomplished a lot more in a smaller amount of time. Try to get good at putting similar tasks into the same group. Look for tasks which involve almost the same work or serve the same purpose as other tasks.
A daily checklist is great for doing this. You can put together group categories like administrative, software development, other tasks not work-related, and so on. Then put your newest tasks into the proper categories as they come in.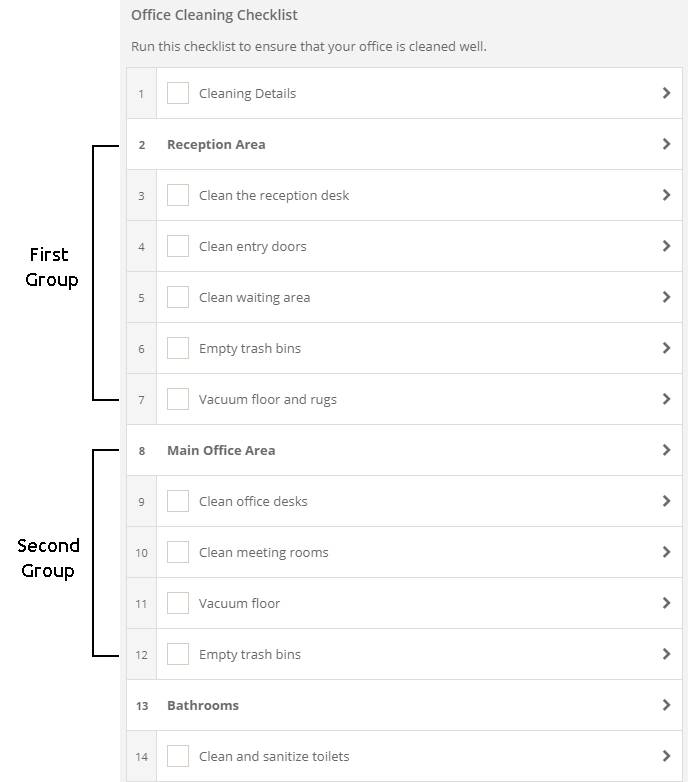 Another way to label the group categories is by the time frame in which the tasks need to be completed. You could label them weekly, bi-weekly, monthly, every two months, every three months, and so on. A lot of people like time categories because they don't have to think about whether they did certain tasks already or if they need to do them in the future. This makes it easier to think clearly and creatively on your current projects and the main objectives you have for them.
Some groups of tasks might be more important than others. For this reason, it is a good idea to categorize the groups by their priority level. This is similar to the previous suggestion, but instead of categorizing the groups by week or month, you'll categorize them by the hour or day.
Business Process Documentation
You can't manage your checklists without documenting the processes of your business operations along the way. Some people might use whiteboards and paper journals to record the documentation, but the intricacies of modern business processes make this more difficult.
It is okay to update your checklists after they're created. Things are always changing in business, so it is okay to modify your tasks by replacing, adding, or deleting them when needed. This is one reason why software is better for creating your checklists because modifying tasks on paper gets a bit messy.
CheckFlow is one of the best software programs for task creation and modification. Whenever you create a checklist, it gets saved forever. That means you can access it whenever you want. Not only that, but you have access to an analytics feature which lets you know how well your checklists are performing.
Checklist Updates
Never stop adding tasks and modifying tasks on your checklists. You will be going back to your checklists repeatedly as you progress in your duties. Along the way, you may realize that you forgot to add certain tasks or you put too many similar tasks into the same group. We are only human, so don't expect to be perfect at creating your tasks the first time out.
An adequate checklist is something that keeps on moving and changing. Nothing is set in stone here. It is almost like a work of art where you keep making modifications to make it the best you can. The name of this practice is called continuous improvement.
CheckFlow supports continuous improvement as our checklist templates are 'living doucments'. Every time you save your checklist template we create a new version of that template. The old versions are still kept. You can still go back and view previous versions and even revert back to an old version if required. By using CheckFlow, you can follow continuous improvement practices without worrying about losing data.

Checklist Integration
Checklists don't need to be isolated from one another. As you finish more of your tasks, you can start to integrate your checklists together. For example, you can have separate checklists for product assembly and product shipping. When a specific task is completed in the product assembly checklist you can start the product packaging checklist and automatically copy certain data from one checklist to another.
Integration and automation can dramatically improve your efficiency and also reduce errors.
You can integrate with over 2,000 apps using the CheckFlow Zapier integration.
For example:
Set up an integration with HelloSign to request a digital signature when a specific task in CheckFlow is completed.
Set up an integration with Xero to import an invoice when a file is uploded using a specific control in CheckFlow.
Set up an integration with SalesForce to create a new lead using the details entered in to some controls in CheckFlow.
Set up an integration with Gmail to send an email with an attachment whena file is uploaded using a specific control in CheckFlow.

Delegate Tasks
In most cases, you need several different skilled people from multiple departments to complete the tasks on your checklists. You obviously couldn't have someone from Human Resources also doing the tasks of management in another department, for instance. People with specific skills should only be doing tasks related to their skillset.
Task delegation and team collaboration are both important because they will save you time from having to ask team members to perform the necessary actions.
CheckFlow assigns tasks automatically and notifies all assignees when a new task has been assigned to them.
Establish Due Dates
Important tasks in your checklist can have a set due date if necessary. Due dates are a great way to motivate your teams to get certain tasks done faster.
CheckFlow allows you to set due dates automatically or on demand. If a task becomes overdue, the assignee and the administrator are notified so that action can be taken to complete the task.
Add Verbs to Your Checklist
Don't just write the noun or subject of your tasks in their headings. Use verbs to describe what action you need to take for those tasks, such as "write," "blog", "research," "call," and so on.
Use Checklist Software
Using checklist software will make your life a lot easier. Some of the main benefits of using CheckFlow include:
Quickly create checklists and add content to each task so that you can display additional data or capture input from the user.
Create schedules to automatically run checklists to a defined schedule (e.g. run the 'Stock Take Checklist' at 09:00AM every Monday, Wednesday and Friday)
Assign tasks and set due dates automatically or on demand. Get notified when tasks run past their due date.
Use conditional logic to hide and show tasks based on values entered in to specific controls in the checklist.
Use automation features to integrate with other checklists and even other apps (e.g. when an invoice is uploaded import it in to Xero).
Monitor the status of your checklists in real time.
Analyze the performance of your checklists using the analytics dashboard.
Access all your completed checklists forever.
View previous versions of your checklist templates, and revert back to a previous version if required.