Share & Brand Your Checklists
A Standardized & Professional Way Of Interacting With Your Customers
Easily share your checklists by generating a unique link. Anyone with the link will be able to access the checklist without having to register or sign in.
Add your own branding for a full white label experience. Interact with your customers and external partners using standardized processes.
Share Your Checklists
With Customers & Partners
Allow your checklists to be accessed and completed by anyone.
Just mark your checklist as shared and a unique access link will be generated for you.
Try a new and improved way of interacting with your customers and external partners.
Protect Your Shared Checklists
Using Passwords & Expire Logic
Secure your shared checklists with a password.
Choose to expire access to your shared checklists after a specific date and time.
Or expire access to your shared checklist after it has been completed.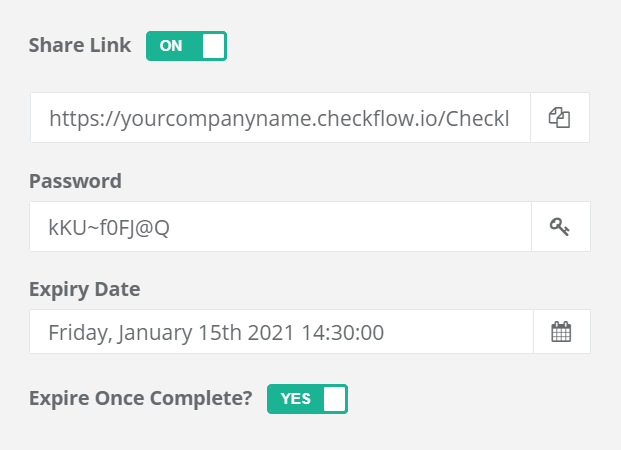 Display Your Logo
Favicon & Business Details
Customize the top banner with your own logo and link it to your website.
Add your favicon so that it is displayed in browser tabs, bookmarks and app cards.
Have total control over how the checklists you share with your customers look.
Your Own Subdomain
To Provide A Branded URL
Personalize the experience further by adding your company name to the CheckFlow URL.