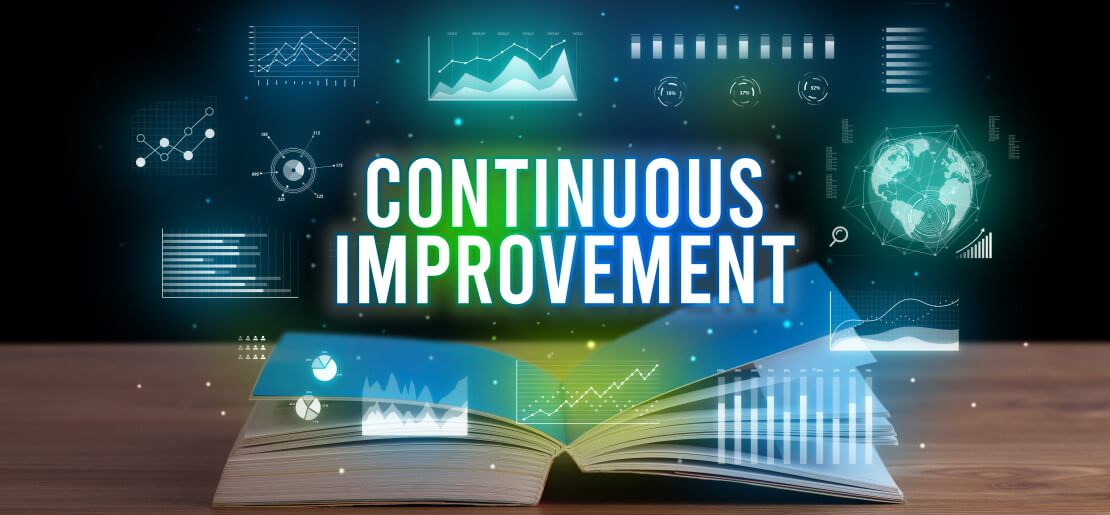 There's no such thing as a perfect process, and there is always room for improvement. Sadly, most businesses don't have the ability to identify, assess, and execute modifications, and as such, every adjustment is left to chance.
A program for continuous improvement is necessary to ensure that any changes made don't complicate your existing operations.
When successful, these modifications will simplify the tasks your staff undertake, and make their jobs more enjoyable overall. Both money and time will be saved. Best of all, you'll be optimizing your existing operations and efforts.
Let's go over the process of continuous improvement from the beginning.
Continuous Improvement: What Is It?
Have you ever fixed a misspelled word in your manuals or processes? What about adding new steps to qualified tasks that weren't previously reported? Perhaps you've upgraded to better software or tools?
Each one of these examples involves continuous improvement.
The methods you use to ensure that your approaches, practices, and processes are as accurate, effective, and efficient as possible is known as continuous improvement. It is performed by improving and examining your processes periodically to curb bottlenecks, update software, and utilize efficient tactics.
This may sound familiar to you if you have heard of DMAIC, Six Sigma, Kaizen, or Lean, since continuous improvement involves similar principles. Additionally, it serves as a key aspect of these practices. That's because the main goal of any alteration is to streamline work and minimize waste.
There are several ways of going about accomplishing continuous improvement (including the Deming cycle and process innovation). Ultimately, they all fall under 1 of 2 classifications: breakthrough improvements and incremental improvements.
Breakthrough Vs. Incremental Improvements
The practice of continuous improvement involves a pair of disciplines: breakthrough and incremental improvements. You can use them interchangeably, however, the most prudent approach to deploying a comprehensive program for continuous improvement is to integrate them both. In doing so, you will be able to handle smaller issues a lot faster while allocating attention and care necessary for larger items.
Breakthrough Improvements
Breakthrough continuous improvement is comprised of making big modifications to either a method or process, typically by going over an item with your team before collectively choosing the best way to move forward. This can be more time-consuming and costlier than the methods involved with incremental improvement. However, breakthrough improvements involve revisions, which are occasionally required for processes that warrant large changes in order to remain accurate and relevant.
For instance, let's say you have an onboarding process for your employees. You have the process updated incrementally to rectify spelling errors, as well as to keep operations running as they should. Suddenly, a different payroll is adopted by your company. This impacts the process significantly, and as such, a big update is warranted to ensure that it remains useful and relevant.
In this case, you will have to hold a meeting for those involved or impacted by the onboarding process for clients. Doing so will allow people to see what needs to be changed. Team members will be able to make suggestions based on current practices and personal experience.
Granted, it will take more time than making changes to the process on your own. However, by holding a breakthrough meeting, you are helping team members remain updated. You're also enhancing the process with recent developments.
Incremental Improvements
This form of improvement involves minor tweaks made to a certain method, practice, or process, and making improvements whenever a problem arises. This tends to be less expensive and conducted a lot faster than the breakthrough approach. With that said, it also comes with a few downsides and risks.
Let's say you are working on a standard documented process, when suddenly, a problem suddenly comes to your attention. Though the issue isn't that big of a deal, you still need to put whatever you're doing on hold. A team meeting will be held to bring your staff up to speed about it. If this issue is left neglected, it might result in confusion for whoever performs the process after you.
In this regard, it is more prudent to rectify the error on your own and address it at the next team meeting. In doing so, the process can be continued without halting operations. Further, the work that other people are doing will also remain uninterrupted.
Therefore, incremental improvement involves moderate corrections or changes to a method or process without the need to review an entire operation. Case in point, you might rectify a spelling error or revise a specific link in a process template you're using to keep the operation running smoothly. This will help your staff remain at the peak of their efficiency.
Although this is typically the cheaper and faster method, you risk neglecting the ways these changes impact other team members. You must be sure that your adjustments will enhance the process, even if only a small improvement is made. You will need to bring up whatever you have done the next time you have a meeting.
The Advantages
Continuous improvement comes with plenty of benefits – they allow you to improve your practices on a regular basis in order to refine the accuracy, effectiveness, and efficiency of both your business and team.
For instance, let's say you have your processes documented already, and enjoy the amount of consistency it gives you. All tasks are conducted routinely each time, to the point where they are simple to predict and monitor. You always achieve a specific success level.
In spite of this, perfection will elude you. Your methods and processes will always need improvement in some area, whether you need to re-engineer the entire approach or make small tweaks to improve your operations.
Are new employees confused by task instructions? By improving them, new employees (as well as several existing ones) will have a better grasp of their duties, as well as be updated faster. Does your current software or toolkit disappoint you? Switch it out and replace it with something that is better to allow your team to scale successfully.
It is a basic concept, but using an established program in order to improve processes is quite beneficial.
Having said that, this basic (and perhaps vague) concept can make it difficult to understand how to achieve such benefits. How can you improve your practices and processes to ensure that you are not inadvertently making things much worse?
Deploying Continuous Improvement
Continuous improvement can be used to change your methods and processes whenever a bottleneck or mistake is brought to your attention, but it is prudent to follow an established plan.
Fortunately, the approach to achieving this isn't very hard:
Make incremental and small tweaks as you go along.
Set a team meeting to talk about bigger changes.
Identify the improvement or problem clearly.
Prepare potential solutions.
Evaluate changes in non-live settings.
Track changes, post-deployment.
Make Incremental and Small Tweaks As You Go Along
It is simple to handle incremental improvements. Simply execute a change once a problem is spotted. This trick entails gauging what changes are insignificant enough that the remainder of the team won't need to be bothered.
The simplest approach to going about this is by asking yourself a couple of questions:
"If a different person was deploying this change, is it something I would expect them to talk about?"
"Will it result in any issues or cause confusion amongst team members?"
If "no" is the response to these questions, then you can immediately deploy the necessary changes. Don't forget to bring the change up the next time you have a meeting. Doing so will ensure that each member is brought up to speed, as far as processes go.
Set a Team Meeting to Talk about Bigger Changes
If "yes" was the response to these questions, then you'll need to postpone changes until a meeting can be arranged with those who are part of the process.
Important changes require such attention for a couple of reasons:
Significant changes that were made without consulting other team members can lead to confusion and mistakes.
You may not have the ability to predict what kind of effect the changes will have.
Once you discover a change or problem that you believe will be beneficial, set a team meeting with members who execute the process. Do so immediately, since this process will stay broken (or inefficient) up until you discuss what is wrong before correcting it.
Meanwhile, if a problem leads to damages, a short-term solution can be created. Be sure to inform your team about the things you did. If you would rather recommend an improvement (as opposed to rectifying an error), wait till the meeting before anything is changed.
Identify the Improvement or Problem Clearly
During the meeting, you must identify a problem that warrants solving or an improvement that must be made.
There aren't any special tricks involved here. Simply ensure that those who are impacted by the process (and use it) understand the issues involved with an existing process. If nothing else, you and the rest of the team must agree on the following:
What the improvement required/problem is.
The scope of the issue (where it ends and begins).
What is affected by it, and how they are affected.
Which operations or processes were impacted by this problem already.
Whether the issues affected were vital enough that warranted extra attention or damage control.
Once this is cleared up, feel free to progress to the subsequent step in the meeting.
Prepare Potential Solutions
Once you have identified and defined what warranted a change, your team members must be in agreement on the most effective solution for an issue.
If it involves a flaw, bottleneck, mistake, or problem with the process, each team member must collaborate and strategize ways of fixing it. For instance, if the packing team struggles to stuff boxes fast enough for delivery, it may be worthwhile to change their approach (perhaps a one unit-flow rather than batch packing).
If the improvements suggested for existing practices are processes, then some extra work will be required from whoever brought it up. In this regard, this individual must convince the remainder of the group why such changes are worth it, and why they justify an uprooting of the existing approach.
For instance, if you suggest integrating operation management software with business management software rather than using a program like Microsoft Office, you'll need to write down all the benefits that come with your decision. Once team members hear how simpler things will be to track, automate, edit, manage, and run tasks and processes, you won't see anyone resisting these potential changes.
Evaluate Changes in Non-Live Settings
After choosing the changes to be made, it is prudent to evaluate them rather than having everything deployed right away. The most optimal approach to going about doing this involves emulating live environments and tracking performances relative to whatever the original processes entailed.
Although it isn't always feasible to achieve this, by evaluating these changes before you commit to them, you can catch problems using the updated method, which may not have been predicted before the meeting. Plenty of things may change when a process is taken from concept to execution. You'll be able to stop problems before they happen.
Track Changes, Post-Deployment
After changes are made, you'll be ready to deploy and track upcoming processes. If things were thoroughly tested, further issues are unlikely to come about. Having said that, no matter what changes you make, be mindful that they could produce issues in the future, or lead to long-term problems of some sort.
If everything goes swimmingly, then you can move further along the process, applying continuous improvement once again when called for. If you don't, then you will need to hold another meeting and deal with the latest issue that has come about.