What is Business Process Management (BPM)?
---
Business Process Management (BPM) is a methodology used by organizations to create, manage and improve their processes. BPM involves analyzing each process on its own, while also considering the part it plays within the organization. A key part of BPM is the frequent fine-tuning of processes, with the aim of optimizing as much as possible. This could be as easy as removing a step in a process or rebuilding the entire process from start to finish.
Before we talk more about business process management, we should firstly define what a process is within the context of BPM.
A business process is a series of repeatable steps designed to achieve a goal. Repetition is the key aspect of business processes. They should be performed regularly and done in a similar way each time. Some examples of business processes are:
New employee onboarding
Code release
Handling a customer complaint
Product assembly
Finance application
Now that you understand what a business process is, we can explain how BPM works using the Business Process Management Life Cycle.
The BPM Life Cycle is an iterative set of activities done in six phases. This means that the cycle can be repeated, instead of ending once the final phase is over.
The six phases are:
Analyze
Design
Model
Implement
Monitor and Control
Refine and Improve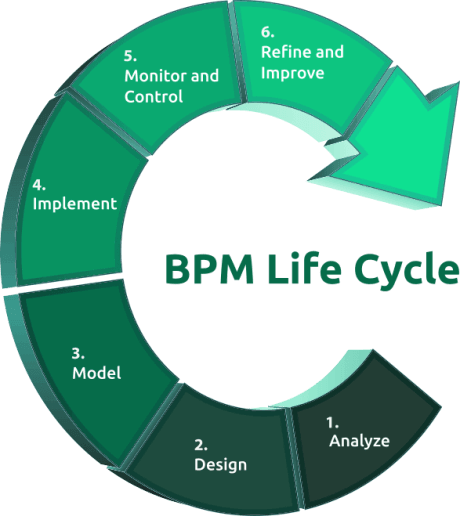 You should analyse each business process for its effectiveness and optimization. Start by ensuring that the process is aligned with the goals and objectives of the organization. Then you can take a closer look at each step in the process to see what is working and what isn't. Analysis will identify opportunities for improvement and help you to understand how the improved process could impact the overall performance of the organization.
Now that you have identified some opportunities for improvement you can begin to develop some ideas for how to improve and optimize the process. This could be as complicated as implementing automation to remove a manual step, or it could be as simple as removing a redundant step. The main concern in this phase is to determine whether the process is good "as is", or if it should be redesigned in a better, more refined "to be" process.
You can now put your designs in to action or simulate how the changes would impact the process and the entire organization. Modelling techniques can vary depending on the process that is being refined. However, running test-cases and prototypes are good ways to see how the proposed changes perform. This phase is important for refining your design ideas and turning your concepts into actionable changes.
Once the modelling has proven that the proposed changes have a positive impact on the process and the organization at large, it's time to implement your modifications. Implementation of new processes or modified processes is best done using software that allows you to easily create and edit your processes. Ideally, the software you use will also have full version history so that you can revert back to a previous version of your process if required.
Once your process has been implemented you will need to monitor and control it to ensure that it is working properly. The software you use should be able to tell you when a process has started, what the current status of the process is, who is working on the process, is the process running on schedule etc. All of this information will allow you to take action if necessary. This is especially important to business critical or time sensitive processes.
Through monitoring and control of process performance, the organization will be able to innovate and improve its processes primarily through redesign and reengineering.
Once your implementation has been completed successfully it's time to start from the beginning again. A key part of BPM is to constantly look for ways to improve. Businesses stagnate when they stand still, and properly executed BPM pushes organizations towards new horizons.