What is a Process Flowchart & How To Create One
---

A business process involves specific repetitive tasks that must be performed to accomplish a particular goal for your business. When a business process is presented on a flowchart with the use of graphics, it is called a process flowchart.
This type of flowchart makes it easier to understand the steps of a business process and the possible results of accomplishing the overall goal of it. People should be able to take one look at the chart and understand the process well because of the graphical representation of the process.
Whenever you need to map your business process, then you must make a process flowchart. Here are just some of the benefits of a process flowchart:
You can understand the business process much faster.
It is easy to find areas of the process that need improvement. Perhaps you could automate some of the tasks that are repetitive and require no logical thinking.
Ensure that all your employees understand the business process and will carry out the tasks similarly.
It is easy to write the "Standard Operating Procedure" of your business process by referring to the flowchart. The SOP is a more comprehensive document with detailed explanations of each step. It can be used as a reference in case anyone has questions about the presentation of the chart.
As you can see, the process flowchart is essential to enhance the productivity and functionality of your business operations.
How to Create a Process Flowchart
You will need to draw your process flowchart. Even if you are a good drawer, it is not so simple to create the flowchart. Accuracy is the most important thing, so you must consider all the tools, steps and techniques involved in the tasks of the business process.
Here is how you can get started.
1) Ensure You Actually Need a Process Flowchart
If you're merely trying to analyse your business process, then other tools might be more suitable for that objective. Process flowcharts give you a graphical representation of the steps of a business process, but they don't help you understand the specific details of each step.
If you wanted to gain a better understanding of tasks like product creation and product delivery, for instance, then you would use a SIPOC diagram. The five parts of a SIPOC diagram are Suppliers, Inputs, Processes, Outputs, and Customers.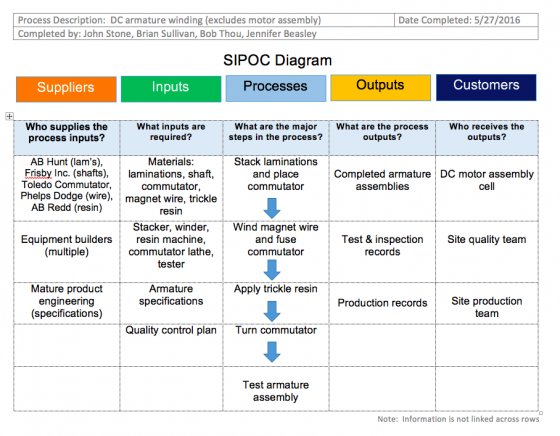 SIPOC Info - Manufacturing Example
2) Collect All The Details of the Business Process
You'll want to have a full understanding of each step and the specifics involved in accomplishing those steps. Also, figure out the type of situations that would make you turn away from the normal process. If you have managers in your business, then know which manager is in charge of each step.
If you need assistance in understanding more of the smaller details of your business process, then talk to the managers and lower-level employees of your company. Perhaps they can suggest ways to improve certain tasks.
3) Draw the Process Flowchart
Once you realize that you need a process flowchart and have an understanding of the smaller details of the process, then you can proceed to draw the process flowchart.
Use standard flowchart symbols to simplify the creation process.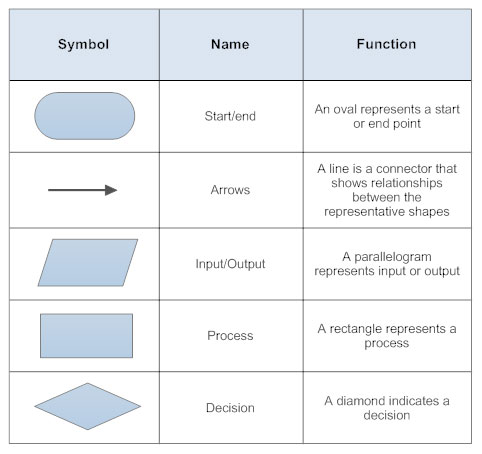 SmartDraw - Flowchart Symbols
But if you'd rather get more complicated in the creation process, then Business Process Modelling and Notation (BPMN) can be used. BPMN allows employees, managers, supervisors and all external stakeholders to gain a fast understanding of the business process.
Regardless of which creation method you select, you must draw the process flowchart. This can be done by utilizing one of the following options:
Pen and Paper - The simplest way is the old-fashioned method of using a pen and paper. Draw your flowchart onto a piece of paper with a pen.
Online Flowchart Software - If you're more of a tech enthusiast, then you can use flowchart creation software to create your process flowchart. One major benefit here is that your updates and edits will be seen by other employees on their computers. You don't have to fax updated paper flowcharts to them. We recommend SmartDraw if you go down this route.
Examples of Process Flowcharts
Process flowcharts can be utilized for all types of business processes.
Below are some examples of business process flowcharts:
Ordering Services Process Flowchart

SmartDraw - Ordering Services Process Flowchart
Medical Services Process Flowchart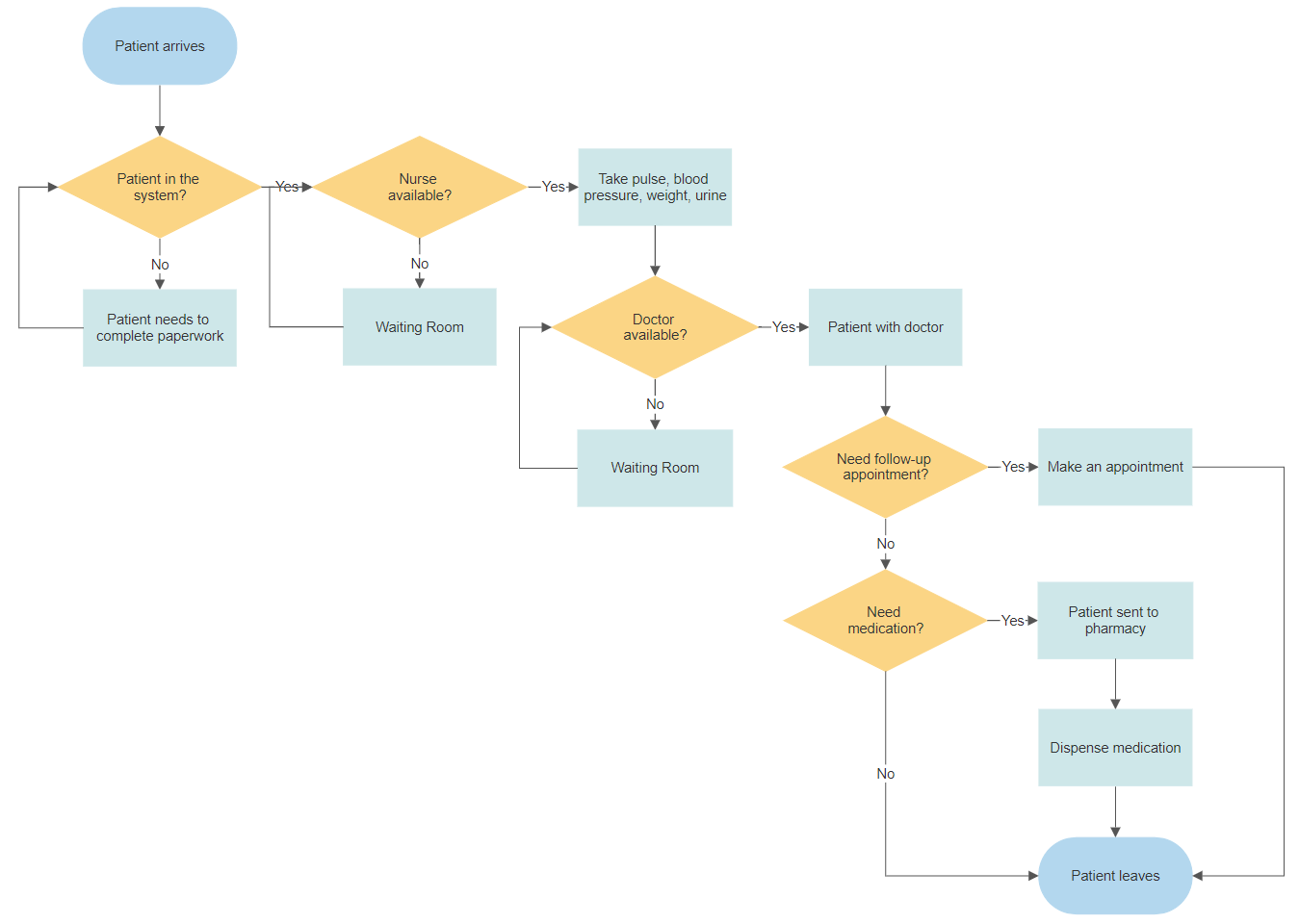 SmartDraw - Medical Services Flowchart
Late Payments Process Flowchart

SmartDraw - Late Payments Process Flowchart
Using Your Process Flowcharts
Process flowchart creation is only the beginning. It is also important to analyse your business process and find ways to improve each step. The flowchart is simply reference material to help you along the way.
A sensible next step would be to digitize your process using your flowchart to guide you. You can use Business Process Management (BPM) software to do this.
The best BPM software should have features such as:
Allow you to easily create a process document containing the steps required.
Capture additional information within each step (e.g. Client Name, Invoice Date, Signed Contract etc).
Run multiple instances of a process at a time.
Create recurring schedules to automatically run your process (e.g. 09:00AM Every Monday, Wednesday & Friday)
Provide a way to monitor the status of your processes in real-time.
Apply conditional logic so that the process can change automatically depending on the process flow.
Set due dates and assign tasks to specific users and/or groups.
Allow you to integrate with other apps (e.g. Salesforce, Xero, Gmail, Goggle Docs etc)
CheckFlow has all these features and more. Sign up for a free trial to transform the way you create and manage your processes.