At face value, this question seems ridiculously simple. However, processes are so much more than their basic dictionary definition of "a series of actions that you take in order to achieve a result". They have a rich history in business and intriguing reasons why they are the best way to get a job done right.
Here are some examples of processes:
At this point, those examples may just seem like tasks or jobs that need taking care of to move a project or business forward. What makes them processes? When you turn a to-do or task list into a formal process, it defines forward motion in a way that boosts productivity, efficiency, and overall optimization. In other words, you get a better end result because you know how and why to do everything it takes to get there.
A Process Is About Fast Forward Motion
As a business owner, project organizer, or team leader, the last thing you want to do is throw a goal at a group of people and tell them to figure out how to get it done. By using a process, the labor is divided appropriately so everyone works on a part that aligns with their particular abilities.
Henry Ford was one of the first people to recognize and implement this idea.
When Henry Ford brought Charles E Sorensen to the large building on Piquette Avenue one blustery day in 1907. Although this Detroit plant was empty at the time, Ford already had a plan to transform it into the production facility for the first type of automobile that everyone could afford to drive.
It all started with a brand-new process. This was not about one car-building expert precisely crafting a luxury automobile from start to finish. Instead, it was about dozens of people doing specific individual tasks that all culminated in America's first mass-produced cars. This assembly-line format of production transformed the Model T production time from more than 12 hours to less than three hours.
Not only did Henry Ford facilitate the launch of America's love affair with cars, but he also developed the concept of processes to manufacture any type of product or do any type of job businesses did and still do today. This helped him fill the garages and driveways of the American people and his bank accounts.
The Ford Assembly Line in 1913
Businesses Need These Three Process Types
The simplest definition of a business process includes a logical set of instructions divided efficiently in a group in order to reach a specific goal repeatedly. However, there are three different types of processes used in most businesses. These include:
Management
Operational
Support
Management Processes
Management processes pull back from individual production projects and look at the larger picture. They focus on company operations rather than products or services directly. These are the things that the CEO and upper management come up with to plan how everything from research and development teams handle new ideas to the marketing group's organization of a new product launch. These processes include everything from essential steps to budgetary concerns and deadlines.
Operational Processes
Operational processes focus on how the day-to-day business operates in the most efficient and profitable manner possible. For example, if you run a toy factory, the decision-makers would create a set process for order-taking and fulfilment. Another process could involve the logistics of warehouse organization and shipping. Every type of business needs operational processes to maintain order, ensure quality control for customer service as necessary, and increase efficiency from start to finish.
Supporting Processes
Supporting processes involve anything else that supports the other two types. These have more to do with managing the company and business aspects of things more than the industry-specific needs like product manufacturing and marketing. Support includes things like maintaining and upgrading tech and equipment, hiring new employees and training, and managing internships. These have little to do with the direct profitable activities of the company, but they are essential for it to stay in business.
Process Planning and Documentation
After the precise steps of any type of process are finalized, it is documented in specific detail in what is called a standard operating procedure (SOP) document. These actionable blueprints may not be very interesting or entertaining, but they do provide essential information about every step the employees need to know. SOP documents should be easily understood, shared, and remembered.
For more information on Standard Operationg Procedures (SOPs) check out our article "Writing Standard Operating Procedures"
What Issues Do Processes Overcome?
In a nutshell, organized process documents overcome errors, inefficiencies, confusion, and productivity breakdown. One of the greatest examples comes from Atul Gawande's excellent book "The Checklist Manifesto", in it he describes how he implemented a surgical safety checklist at Johns Hopkins Medical Center. With just a single piece of paper containing a checklist of safety protocol, so many potential errors were stopped that a full 93% of the surgical team said they would want their doctors to follow this checklist if they ever need surgery themselves.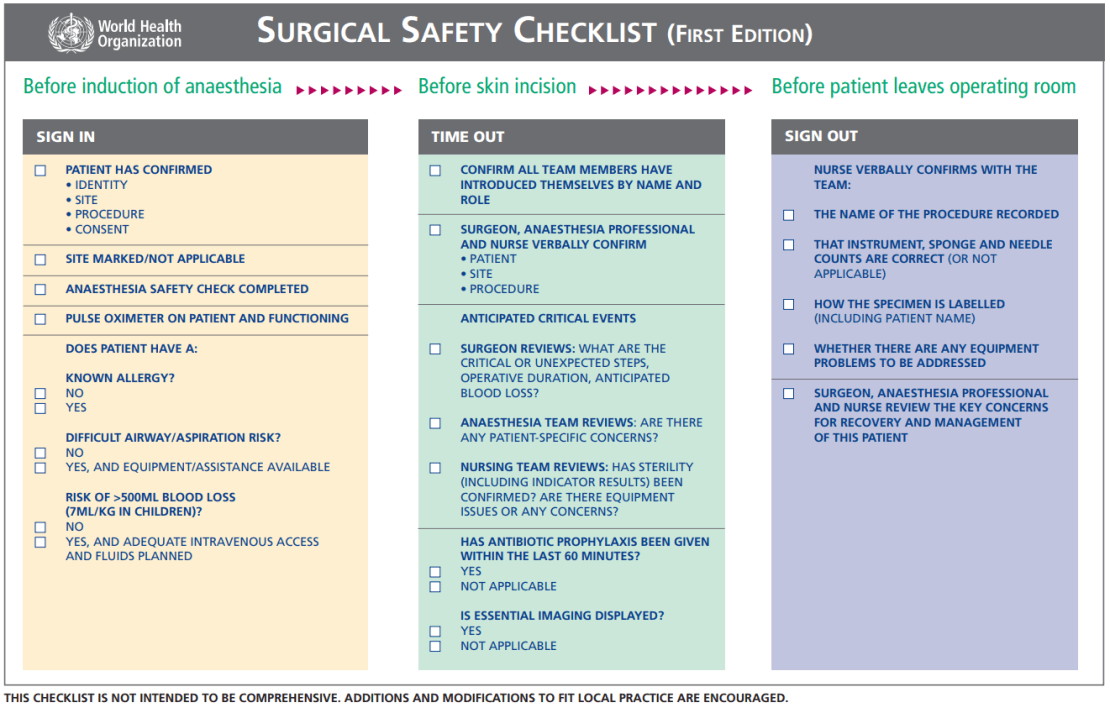 World Health Organization - Surgery Safety Checklist
Create Your Business Processes Using CheckFlow
Never wait until something goes wrong to create a process and get organized. With all the benefits SOP documents bring, it makes sense to learn how to implement one from the start. With a free 14 day trial of CheckFlow, you get the help you need to create processes that allow for successful, efficient, and fast production no matter what industry your company operates in.
Step 1 - Create a Template of Your Process
Create a template of your process using our drag and drop designer. Simply create your tasks and then add the required content to your tasks.
Use our advanced workflow and automation features to:
Assign Tasks - Assign tasks to users and/or groups. Define the assignments in the template so that the assignments are made automatically whenever a checklist is run based on that template.
Permission Tasks - Control what users can view and edit each of the tasks.
Due Dates - Set due dates so that notifications are sent when a task is overdue.
Enforced Order - Enforce the order in which tasks can be completed.
Conditional Logic - Use if... then... logic to dynamically show and hide tasks based on the actions taken by the user.
Zapier Automation - Use our Zapier integration to connect with other applications. For example, upload a file to Dropbox when a specifc task is completed.
Step 2 - Run Your Process as a Checklist
Run multiple instances of your processes as a checklist.
Step 3 - Monitor the Progress of Your Checklists in Real-Time
Monitor the progress of your checklists from our real-time dashboard.
View stats, charts, trends and more in our analytics dashboard.