12 Steps To Write An Awesome Listicle
---
There are an abundance of listicles on the internet – in fact, there are way too many of them.
Whether you're reading Listverse, Huffington Post, or BuzzFeed, countless lists get published each year, and the quality of most of them are poor.
Nowadays, lists are considered to be "clickbait." This article will prevent your listicle from being seen as one.
Keep reading to learn:
Listicles: what are they?
Listicles can be described as articles broken down into a list. There tends to be some type of added detail for each item.
However, the format is flexible. A listicle can contain a title, subheadings per each listed item, and either a gif or picture under each one.
Alternatively, some people use listicles to break down and simplify a complicated subject.
It doesn't matter what topic you are writing about. Even if a list isn't the natural format of a certain subject, it can still be created by viewing the topic from a different perspective.
There is no limit on the ways listicles can be used to back an argument up, explain a subject, promote a project, etc.
What makes listicles so popular?
Succinctly, people like reading lists. That's why listicles are just as effective as conventional lists.
Listicles (and, therefore, lists) are enjoyable to read for the following reasons:
You know exactly what to anticipate from the title alone.
It is simple to skim lists for the information you're looking for.
You know precisely how much more you have to read.
You can stop anywhere and return there with ease.
Complicated subjects can be broken down into simplified portions.
If you see a title like "How to Trim Your Beard", you know precisely what to expect and can determine if an article is worth reading. You know from the get-go that no time will be wasted reading irrelevant content about a similar subject.
Some people prefer skim-reading articles in order to absorb vital information without the need to go through the entire thing.
A 2006 study by Jakob Nielsen from the Nielsen Norman Group backs up this point. Jakob and his team demonstrated how eye-tracking studies show that users normally review large blocks of content in a pattern that looks like the letter F or E. This is now known as the F pattern.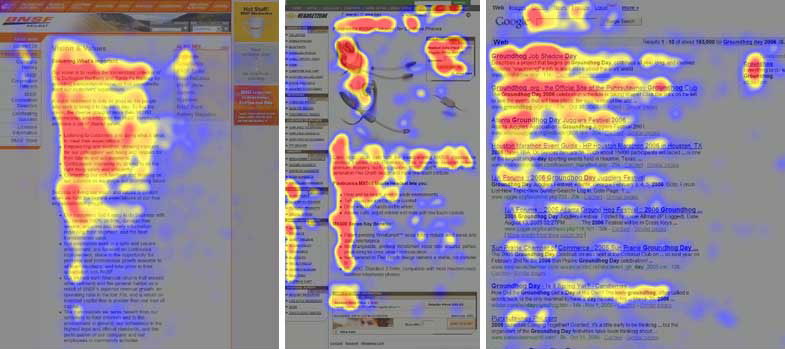 Nielsen Norman Group - Eyetracking - F Pattern
This is where listicles truly shine, as key points tend to be expressed either in bullet points or subheadings, making the content easier to find and read through.
Listicles have a similar psychological effect that task lists and checklists have. They give readers a sense of accomplishment and progress while working their way through a piece, encouraging them to complete the article.
Their popularity with readers aside, writers enjoy making listicles for a number of reasons, including the following:
They are simple to coordinate and write.
Every written item comes across as an achievement.
Core keywords can be targeted with lists.
Small listicles can accommodate longtail keywords.
They are easy to update.
Listicles are simpler to put together and craft in comparison to conventional articles since they can be ordered non-sequentially.
Occasionally, a specific order may prove to be much more effective. In general, though, additional points are easy to add to the bottom without interrupting existing content. This simplifies the process of inserting new items without the need to restructure the list.
Updates are simplified for this same reason. If another item needs to be added, simply write it in at the bottom of an existing list and modify the title. The format won't be hard to alter if a certain point needs to be changed.
Having said that, just because listicles are simple to write and read does not mean laziness is an option. The amount of listicles that audiences had seen by now means your content could be perceived as worthless drivel or potential clickbait.
You can prevent this from happening by understanding how to coordinate and craft content properly.
Planning listicles
A good plan is essential for all forms of writing. Although listicles have a simple structure they still require proper planning to achieve a great result.
Here are the six steps you'll need to take to plan your listicle well: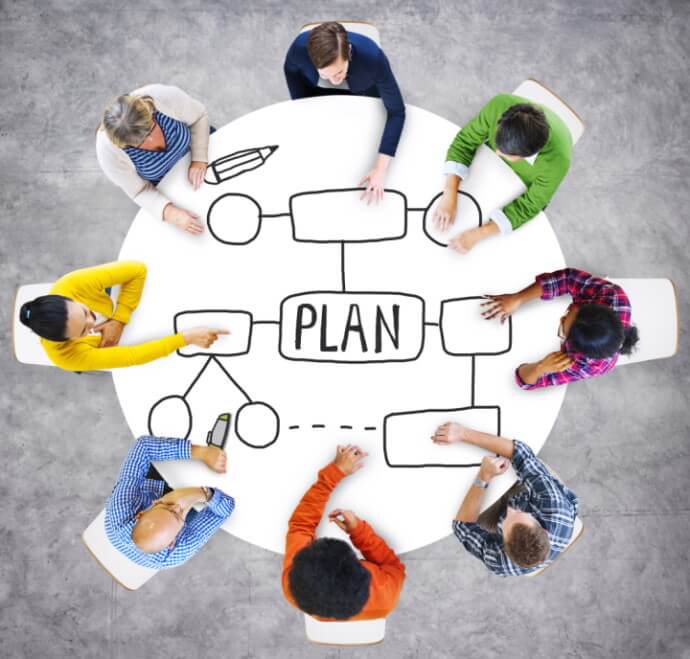 1. Select a topic
To begin with, a topic will need to be chosen. It can entail whatever you want. Your subject will mostly be based on the reason an article is being written in the first place.
If you are creating content for a personal blog, your topic could be something that's been on your mind. Conversely, business blog writers might choose a subject that pertains to their target market.
Whatever you select, take notes about whatever you have decided to write about. When feasible, write down the article's purpose, as doing so may help you figure out what angle to tackle a subject from.
2. If necessary, choose keywords
From there, you will need to pick keywords relevant to your listicle. This is important if your content is crafted for the purpose of increasing readership. If you are simply writing a fun listicle, you don't have to worry too much about keywords.
Keywords can be described as words search engines (like Google) associate your content with. That way, if someone conducts a query for a term relevant to your content, then the search engine will deem your listicle relevant. Subsequently, they will push it higher up on search engine result pages (SERPs).
Higher keyword rankings helps your listicle inch towards the number one result for a given term. The more proximity you have to a first-place ranking, the more eyes you will get on your content.
Some amazing online tools are available to help you with keyword research, including Moz and Google Keyword Planner. These tools can be used to find keywords with high volume (traffic), as well as ones with low difficulty ratings (low competition for certain keywords means ranking for them will be easier).

Moz Pro Keyword Explorer
Listicles are ideal for longtail keyword targeting because they are simple to read and write. You can link landing pages to listicle collections using longtail keyword variations.
3. Scout your competition
After you've chosen a keyword, you'll then see how much competition you have for a subject. Make a query for your topic or keyword on Google to see results that currently rank high.
In doing so, you will be able to see the kind of information audiences are searching for when making queries for a subject. You can find details about the quality and quantity of results ahead of you. That way, you can figure out what to do to surpass the competition and increase your traffic.
To put it another way, if your competition has articles or lists that contain a maximum of 10 points, then your lists should have between 15 and 20.
Don't add more points just to fill your list up, though. If 10 points are as many as you can make, then think about elaborating on each one, creating a structure more scannable, or adding bonuses for the sake of strengthening your piece.
Odd numbers catch more eyes than even numbers do. A list of 17 or 21 points strays from the norm, and therefore, makes your content intriguing to potential readers.
Make a note of whatever approaches you use to outrank the competition. Your plan should contain rough details, the amount of points to be used, and detailed levels in the listicle. This will give you a guide to stick to.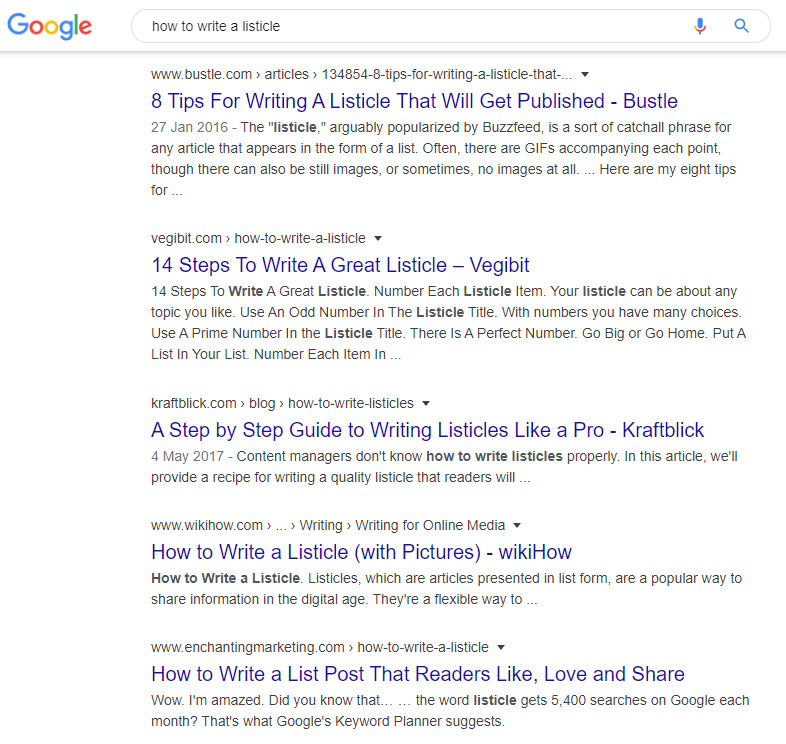 4. Make your angle unique
Your listicle should be presented from an angle that is unique. Use the information obtained when you scouted the competition, as well as the research and knowledge you already have about the subject.
Your angle must be different from others about the same subject. Otherwise, someone could swipe your hard work, insert their own knowledge and experience into it, and not cite you as a reference.
If the information you provide is generic, no one will backlink to your listicle, nor will you be cited as a source. Worse, your audience might have seen "your" content somewhere else and leave your article before finishing it, resulting in a high bounce rate.
To make your angles unique, consider the following:
Write from a personal perspective.
Use a case study or example to frame your information. Insert useful but obscure statistics to emphasize your subject's importance.
Provide upgrades for relevant content to offer extra value and stimulate further action.
Gather information from more than one source and summarize it.
The final approach (information gathering) isn't the best method for listicle framing since just about anyone can research a handful of sources and summarize – the information doesn't have anything unique. Having said that, if you are unable to do something better, then it is okay to use this approach.
Never take high-ranking posts and convert them into lists. You will need to reference whoever you swiped in your content (to bypass plagiarism), inadvertently strengthening their ranking. Further, you're not giving anyone a reason to read your content.
5. Put down the points of the list
This is where the actual list comes into play.
Figure out how many points your list will contain. Don't concern yourself with the list's order, or with details elaborating on your points quite yet.
The list should be written in base form. Ensure everything you intended to cover is there. If necessary, research information from current sources.
Note: locate your information's original source and add a link to it (instead of using alternative sources). This will solidify the reliability of your article, and you won't have to backlink to the competition.
If there are citations in your sources, go through them until you've reached the original. If you don't see any citations, but do see references to a source (for example, "from a 2008 study"), enter the information on a search engine to get a rough source.
6. Decide what material you want accompanying the list
Lastly, decide how the list will be leveled, and if you will be providing any additional material (for example, content upgrades).
This will mostly be contingent on the amount of information that you have and the content your competition has published already.
If others have added little-to-no details in their content, you could write a paragraph for every point. If they have provided sufficient details, think about upgrading the content to make yours more enticing.
Writing a listicle
And now for the moment you've been waiting for. You can finally put all that planning to use and get stuck in to writing your awesome listicle.
When writing a listicle, you'll need to follow these six steps to make it a success:
1. Select a listicle type
To begin with, you must select the kind of listicle to write. Your decision will mostly be contingent on topics relevant to your specialty. You can decide what points to cover an interesting and direct way.
There is no universal format for list articles, but some rough examples are below:
A listicle based on an experience you had (10 Things I Discovered about ___).
Advice based on experiences you had (10 Things You Should Keep in Mind Based on My Adventures in South America).
Roundup of research (a comprehensive list of sourced information).
A list converted from an editorial piece (the list is used to make a case for a certain point).
A list of reports (an article converted to a list for the sake of making it scannable).
Each format has its own appeal. Select one that accommodates the goals you have set for the article, as well as what you are offering based on the angle taken.
Once your choice has been made, you can work on the article's title.
2. Refrain from using clickbait titles
The term "clickbait" generally alludes to something unlikely or doesn't deliver on what the title suggests.
For example's sake, here are some titles with unrealistic claims:
10 Ways Any Problem Can Be Resolved Forever.
When You Read These 19 Shocking Food Facts, You'll Never Want To Eat Again
Don't make any claims you can't back up. Make sure the claims you do make are follow through on in the article's body.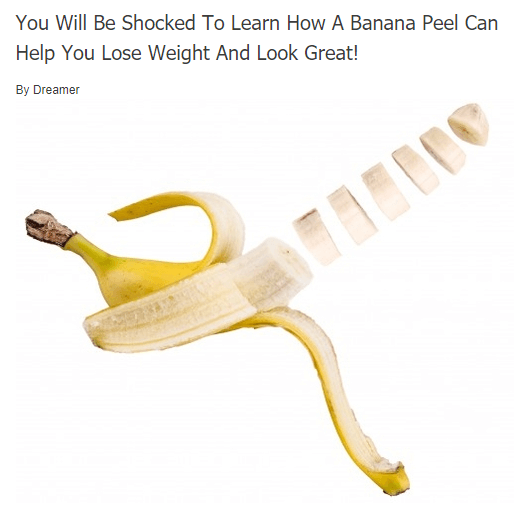 3. Try to be as specific as possible
Lists allow you to provide value to people without giving them fluff. As helpful as this is, you must consciously strive for specificity with every item.
This bit of advice should be followed when writing anything, articles and blogs included. By doing so repeatedly, it will eventually form into a habit.
4. Use gifs and images to illustrate points
On their own, lists can come across as dull. Readers may zone-out when content only contains text.
As such, you must include relevant gifs and/or images to insert a little bit of flavor to a listicle. There is no need to go overboard with visuals, but endeavor to separate your content so that at least one picture per page is apparent when scrolling text.
Regular articles use this tactic. By ensuring that readers have part of a picture (at least) on their screens, they will be encouraged to keep scrolling to view the remainder of your content.
Whatever the imagery entails, you must have permission from the owner before using it.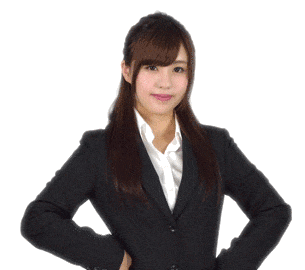 5. Don't stray too far from your plan
You've put all that effort in to creating a great plan for your listicle. Do try and stick to your plan because it can be easy to drift from your main topic.
When writing, it is common to have moments of inspiration where you may feel that what you originally planned can be improved upon. This is a normal part of the writing process and should not be discouraged.
However, if you planned to write a listicle about "How to Trim Your Beard", make sure you stick to that topic. You don't want to end up with a listicle more relevant to another topic, such as "What Beard Brush is the Best?".
6. Make your conclusion strong
A majority of a listicle's value is derived from the actual list. Once it is read, many people will move onto another article. That does not mean you shouldn't put a solid effort into creating a good conclusion, though.
Many articles and listicles have bland conclusions. The content either ends abruptly with a vague comment or summarizes something that has been said already.
What you should do instead is to conclude your content by providing something extra. Consider the following ideas:
Present unique examples pertaining to your subject to encourage experimentation.
Provide upgrades to content or display a CTA (call to action).
Tie your points back to a central argument before hammering your message home.
Recommend techniques or activities for using whatever you are writing about.
Listicles are more than just basic content
Although this article has revealed how basic listicles can be written, the process won't be easy or short. You do have the potential to rank high on search engines using the techniques mentioned in this article.
Whether you are creating engaging lists that don't contain clickbait, or you are trying to outrank the competition, following the suggestions above will start you off on the right foot.