Process and Workflow Management Using Checklists
Create. Manage. Track. All In One Visual, Collaborative Space.
The Simplest & Most Effective Way To
Create, Manage & Track Your Processes
Step 1
Build Your Process Template
Build a template of your process using our drag and drop designer.
Step 2
Run Multiple Instances
Run or schedule multiple instances of your template as checklists.
Step 3
Monitor In Real-Time
Monitor and control your processes using our real-time dashboard.
Create Tasks
Within Seconds
Our simple editor allows you to easily create tasks in seconds.
Drag and drop the tasks to change their order.
Save time by duplicating existing tasks and all content within the task.
Add headings to group your tasks in to logical sections for improved readability and structure.
Add Content
To Your Tasks
Use our wide range of controls to capture input or display data within your tasks.
Simply drag and drop the controls on to the designer.
You can easily create even the most complex processes using our controls.
Implement Workflow Logic
To Control How Your Process Behaves
Enforced Order
Using Halt Tasks
Enforce the order in which tasks can be completed using halt tasks.
All tasks that follow a halted task will be greyed out and not editable until the halted task and all preceding tasks have been completed.
Assign Tasks
To Collaborate Easily
Assign tasks to users and/or groups.
Control access to a task by specifying that only assignees can complete the task.
Define your assignments in the template so that the assignment is automatically made whenever a checklist is created.
Add new assignments directly from the checklist whenever you want.
When a new assignment has been made a notification is sent to all assignees.
Set Due Dates
To Ensure Timeliness
Use dynamic due dates or one-time due dates to ensure that tasks are completed on time.
Dynamic due dates are set within your template. The due date is set for every checklist based on your template. The due date is calculated based on the start date of the checklist. For example: 1 day and 8 hours after the checklist has started.
One-time due dates are set within the checklist and only apply to that checklist. The video example shows a one-time due date being applied.
When a task is overdue a notification is sent to all administrators and all users assigned to the task.
Use Our Automation Features
To Reduce Your Workload
Use Conditional Logic
To Create Dynamic Processes
Use conditional logic to create truly dynamic checklists based on if/then logic.
Show and hide tasks based on the value entered in to a specific control, such as a text box or drop down.
Responsive checklists give you more power. For example, if the user selects a product you can display tasks that are related to that specific product only.
You can create multiple conditional logic rules to control exactly how you want your process to behave.
Recurring Checklists
Using Our Powerful Scheduler
Automatically run your checklists to your own custom schedules.
Repeat daily, weekly, monthly, yearly, every other thursday, every 3 months on the 15th. We will be able to cover every scenario you can think of.
Don't worry about manually creating checklists for your recurring processes. We'll just do it for you.
Combine scheduling with our other features and your processes can be run and completed without any extra input from you at all. You will love the ways in which we can reduce your workload.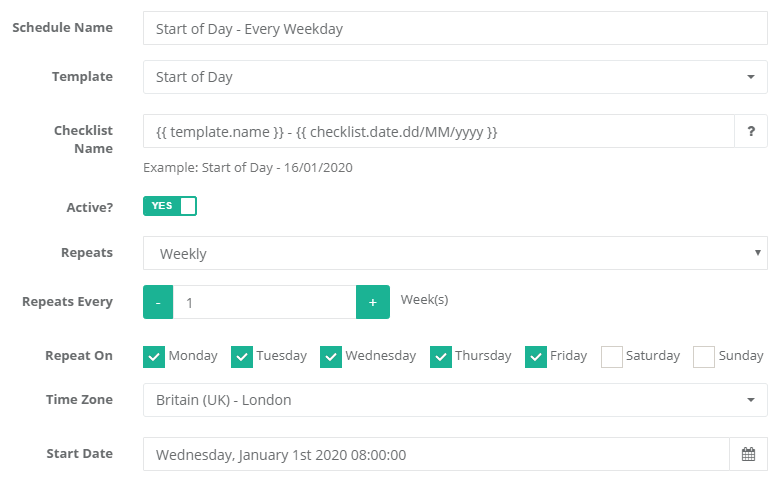 Automatic Notifications
To Keep You In The Loop
Receive emails & in-app notifications when certain actions occur within CheckFlow.
Know exactly when you can start work on a task.
Prevent tasks from becoming overdue.
Integrate With Over 2,000 Apps Using Zapier
Our API & Webhooks Provide Even Greater Flexibility
Easily connect with over 2,000 other apps using our Zapier integration. Set up integrations and automations without writing any code.
For even greater flexibility use our open REST API.
You can even subscribe to our real-time JSON webhooks. Instantly receive JSON payloads on any receiving endpoint.
Keep Track of Your Checklists
Using Our Real-Time Dashboard
Use our dashboard to keep track of your checklists in real-time. If someone completes a task your dashboard is automatically updated with the change ensuring that you're always viewing the latest data.
You can control exactly what you want to display on your dashboard by using the filters and search functions.
Checklist tasks can even be completed directly from the dashboard if the permissions and required fields allow for that.
Our BPM software allows you to easily create and manage your processes from start to finish.
Run Your Processes
As Powerful and Collaborative Checklists
Checklists created within CheckFlow are powerful, easy to use and beautifully presented.
Our SOP software includes controls and workflow features which allow you to easily build seemingly complex processes.
The automation features help to control your workflow and reduce your workload.
Collaboration is easy with task assignments, and always accurate as we keep your data synchronized in real-time across users and devices.
Have a look at some of the ways companies are using our checklist software to manage their processes and standard operating procedures more effectively.
Analytics & Reporting
To Give You Control Of Your Data
Our Analytics dashboard provides you with all the data you need to see where improvements can be made to your processes.
Export data for further analysis in an external application.
View and print your checklists for offline use.
Get a Free CheckFlow Account
Take Control Of Your Workflows